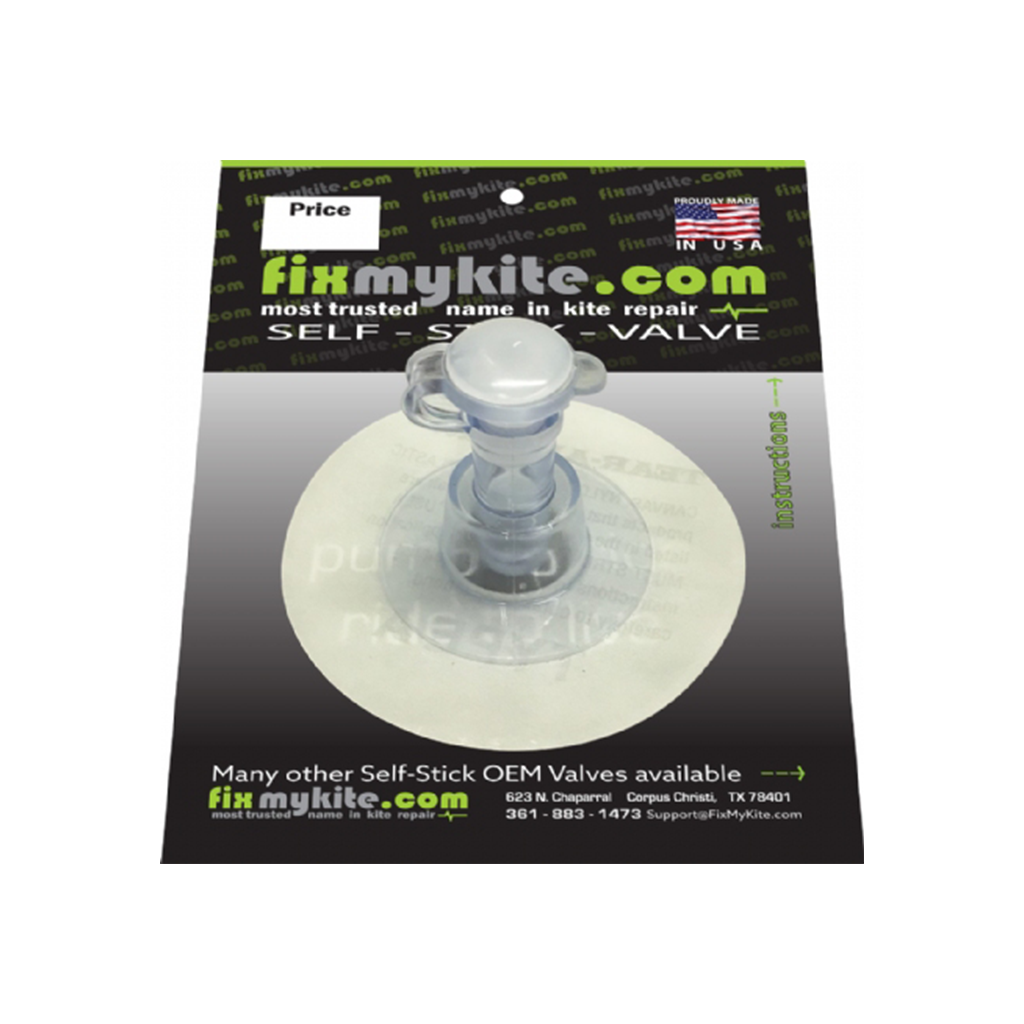 PKS 9mm One Way Kite Valve
PKS 9mm One Way Kite Valve
The 9mm valve is a very common inflate valve used for many years on many kites as the main inflate valve as well as on kites where you pump the struts up separately from the leading edge. This one-way valve lets air enter while pumping but stops air from going out with a flap on the bottom. Simply squeeze the valve to let the air out when deflating or the one-way flap can be cut out to create a 2-way valve.
From the leaders in kite repair technology, Fixmykites Self-Stick valves will stick on all bladders. Simply peel and stick to make a fast and easy repair on an old bladder or attach to a brand new bladder. The specially formulated adhesive is incredibly durable making for a permanent repair. Everything needed for installing the new valve is included in the package: alcohol wipe and detailed instructions.
The "Valve Patch Size" option allows you to select the size of the Tear-Aid patch on the base of the valve. Standard valves have a 3-inch diameter base and the Mega patches have a 4-inch diameter base. This extra inch diameter on the Mega valve means 77% more adhesive and surface area compared to the standard valve patch size. The additional surface area provided by the Mega valve patch is necessary when the old valve is cut from the bladder or the bladder is torn or warped when the old valve is removed.
KITE PADDLE SURF WARRANTY/RETURN POLICY
We understand that in some situations returns or exchanges may be necessary.
Its important to us that you're stoked about what you've purchased from Kite Paddle Surf. If you are not 100% satisfied with your purchase give us a call (360 775 2741), or email us, we want to make it right. On returns, all items must be in new condition with original tags, packaging and a receipt.
We are not able to take returns or exchanges on wetsuits that have been in the water so, please make sure it fits BEFORE you get in the water.
Click here for our full Return Policy.