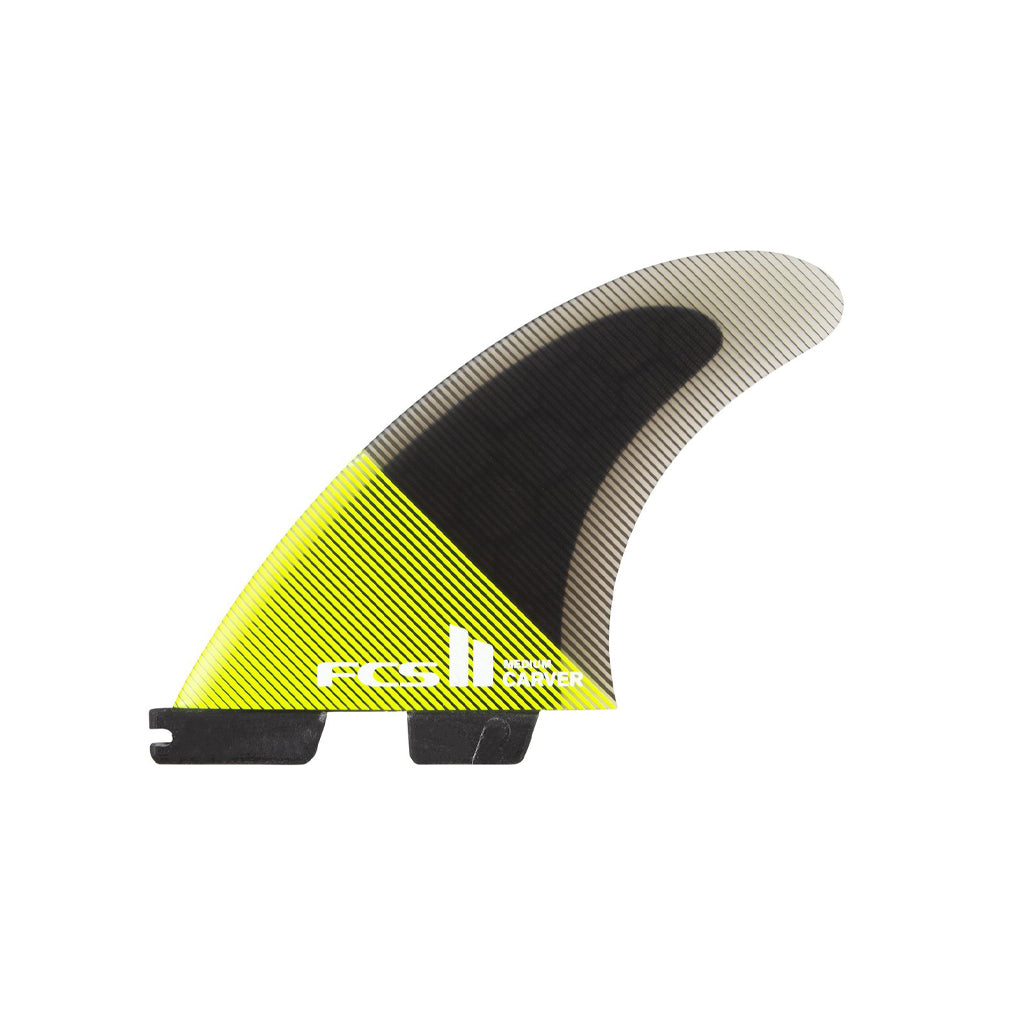 FCS II Carver PC Tri Fin Set
FCS II Carver PC Fin Set
Powerful, drawn-out turns. Excels on open face waves.
Material
Performance Core (PC) fins are made using a multi-layered resin transfer molding process. The flex pattern in PC fins extends progressively from the base through to the tip, helping the surfer to maintain drive and hold through a turn. This versatile fin material is light and can be used in a variety of different conditions.
Overview
Designed for powerful, drawn-out turns with added hold.
Elongated template with high degree fo sweep provides exceptional hold off the bottom and when carving on the open face.
Ideal for power surfer who likes to push hard against their fins and draw out their turns.
Ideal Conditions
Open face, down-the-line waves, particularly good in point and reef breaks.
Board Types
Recommended for boards with deep concaves and moderate-to-extreme rocker.
Fin Family
Carver: Find Power. Powerful, drawn-out turns with added hold.
FIN SIZE
MEDIUM (65 - 80Kg / 145 - 175 Lbs)
LARGE (75 - 90Kg / 165 - 200 Lbs)
Aaron
Content Creator
FCS II Carver Quad Rear Fins - At a Glance.
These Quad rear fins drive an immense amount of power when turning. Mean for power carvers who push a lot of weight against their fins.
KITE PADDLE SURF WARRANTY/RETURN POLICY
We understand that in some situations returns or exchanges may be necessary.
Its important to us that you're stoked about what you've purchased from Kite Paddle Surf. If you are not 100% satisfied with your purchase give us a call (360 775 2741), or email us, we want to make it right. On returns, all items must be in new condition with original tags, packaging and a receipt.
We are not able to take returns or exchanges on wetsuits that have been in the water so, please make sure it fits BEFORE you get in the water.
Click here for our full Return Policy.