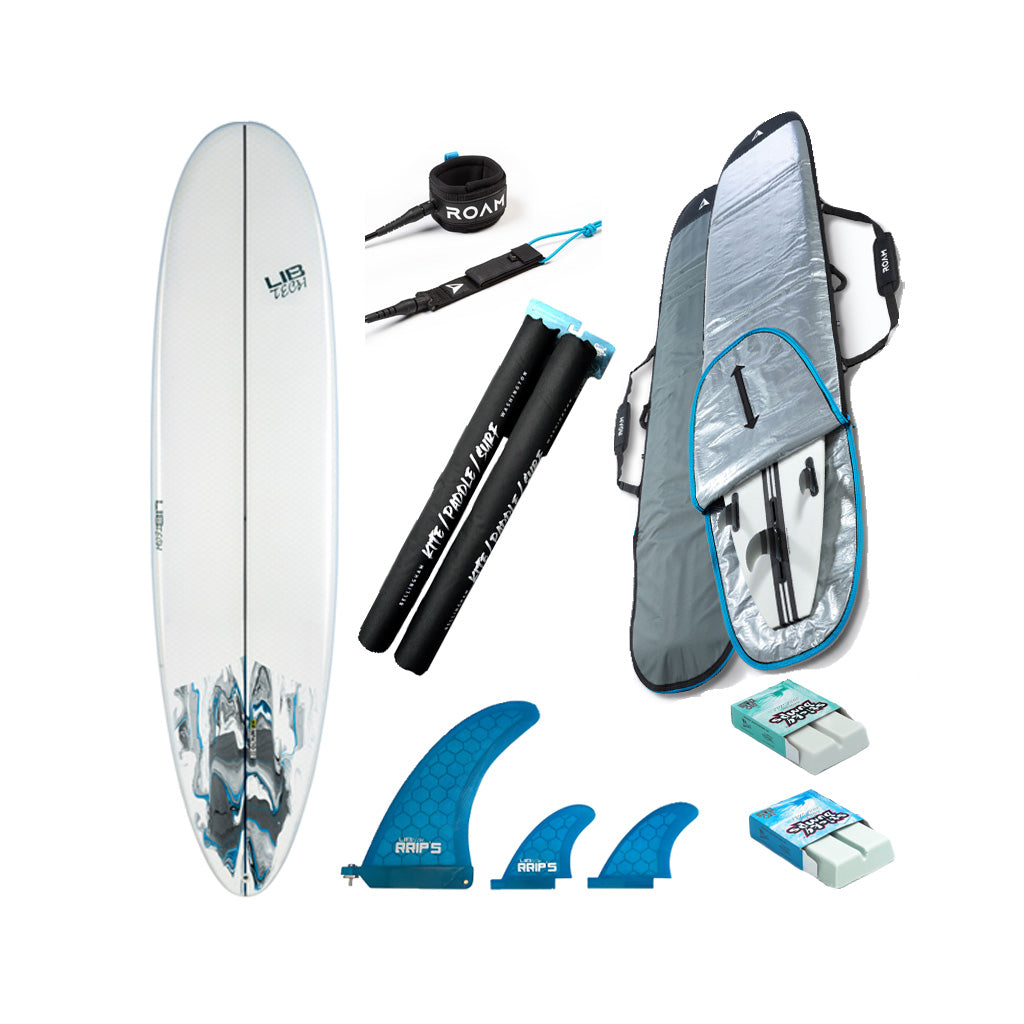 The KPS Lib Tech Pickup Stick 8'0" Surf Package
The KPS Lib Tech Pickup Stick 8'0" Surf Package
We put this package together so you have everything you need to get to the break and have a great time in the water. Whether you are a beginner surfer ready to move on from your foamie, or a veteran in search of the perfect one-board small wave quiver, look no further!
Lib Tech Pickup Stick 8' B-Grade 
It's all in the name. This board will have you catching more waves and having more fun! Hang out up front and ride the nose, or step back and carve, whatever you do the Pickup Stick has your back. 
The B-Grades are cosmetic blemishes that you won't notice in the water, but you could notice the burrito money you saved.
Roam Daylight Plus Bag Fun 8'0"
Keep your board in top shape! The Roam Daylight Plus has improved durability than the usual lightweight day bags. As well as the extensive Roam Daylight features, 5mm high density padding throughout, heat reflective material outside and wax resistant material inside, generous padded carry handle with a buckle free strap, longer zip and tail darts, the Plus model has a tough 600D nylon side to resist the wear and tear of daily use.
Lib Tech 6.5" Single Fin + Side Bites
A perfect set up for performance minded single fin with side bites box set ups like the 8' Pickup Stick. Loose and speedy with great hold for progressive minded lines and surfing.
Roam Premium Leash 7mm 8'
As its name says - designed with the best in mind. The Roam Premium leash has the highest quality 7mm 9/32" urethane, a super comfortable 2.5" Lycra bound neoprene ankle cuff, stainless steel swivels, molded cord ends and a triple locking rail saver. 
KPS Rack Pads
The Kite Paddle Surf 28" Rack Pads fit your existing round or square roof rack crossbars to provide padded protection for transporting surfboards, paddleboards, wing foil boards or anything else that needs that extra protection. These 28-inch-wide rack pads are sold in pairs and feature custom extruded foam covered with durable 600D polyester fabric, a hook and loop closure holds the foam in place. These will not work with most factory rack "Aero" crossbars. Show your Kite Paddle Surf stoke on your next trip to the beach.
Sticky Bumps Wax Set
You get a Basecoat, and a choice of any temperature wax for your stick. Not sure which temp you need? Give us a call! 
KITE PADDLE SURF WARRANTY/RETURN POLICY
We understand that in some situations returns or exchanges may be necessary.
Its important to us that you're stoked about what you've purchased from Kite Paddle Surf. If you are not 100% satisfied with your purchase give us a call (360 775 2741), or email us, we want to make it right. On returns, all items must be in new condition with original tags, packaging and a receipt.
We are not able to take returns or exchanges on wetsuits that have been in the water so, please make sure it fits BEFORE you get in the water.
Click here for our full Return Policy.