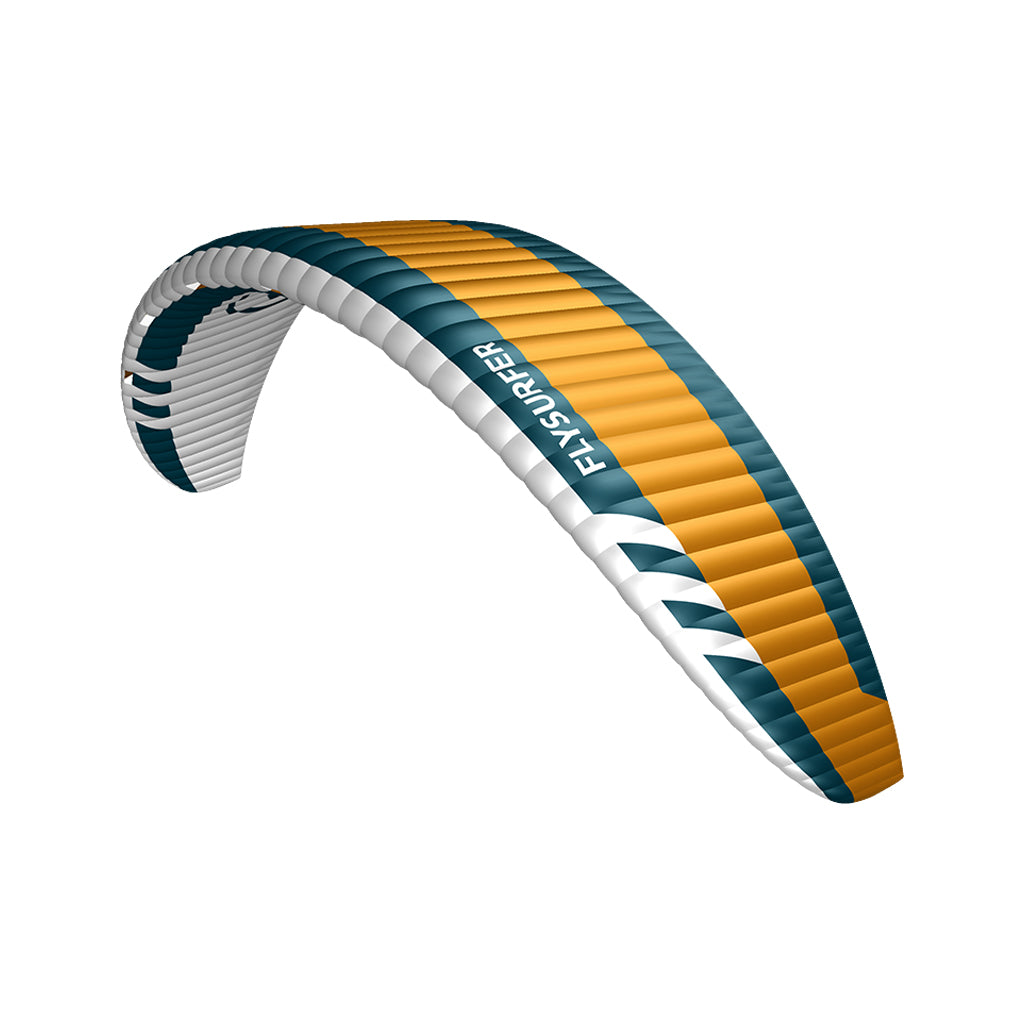 Flysurfer Sonic3 Foil Kiteboarding Kite
Flysurfer Sonic3 Foil Kiteboarding Kite
The SONIC sets new standards as a high performer and gives you an extremely thrilling flight feeling. The manifest dream of every kite expert, the balance of biting aggressiveness and fine control, equipped with FLYSURFER power that is addictive. Sporty, fast and fascinating, designed to defy the laws of physics.
 11m Only in Amber/Petrol
"Get your hands on pure power. A true High-Performance wing that generates an insane lift and thrills me to the bones."
The high flying speed of the SONIC is addictive, you hear how the wing accelerates through the power zone. You want to ride it fast and fly it aggressively. The exciting element here is the excellent handling, precise control, and great hang time. You have more time for tricks with the Twintip and maneuvers on the Hydrofoil. The Sonic flies very far to the wind window edge and runs outstanding upwind. The terrific stability helps to get the performance very easily on the light wind.
Features:
SPC - SMART PERFORMANCE CONSTRUCTION: X-Light upper and lower sails, DLX + Leading Edge, reinforced loops, sheathed brakes
ADS - AUTOMATIC DRAINAGE SYSTEM: Opening at the wingtips to divers water. Sand, Snow, Dirt, etc.
LMT - LONG MIXER TEST: Trim Features to compensate line shrinkage, Black markings in the bridle lines to compare the ling length.
PMA - PROFILE MOMENTUM ADJUSTER: Knot ladders built in the internal construction on the upper and lower sail to change stability, performance or symmetry.
MPI - MAXIMUM PRESSURE AIR INTAKE: 7 air intakes to allow easy opening of the wingspan in strong winds.
Highlights
Low End - The best light-wing kite, very stable and easily accessible, perfect for foiling.
Jump Performance - Strong lift, good depower, great hand time, precise control.
Upwind- Flying far to the edge of the window, more jump per session.
Aaron
Content Creator
2021 Flysurfer Sonic Foil Kite - At a Glance
This is a high-performance foil kite for the experienced kiteboarder looking for the best performance. The Sonic will jump higher than any other kite out there due to its high aspect ratio combined with tons of depower range. You can really load this kite up and pull the bar in for insane super floaty jumps. The Sonic is incredibly efficient so getting upwind is super easy because the kite sits at the edge of the wind window with tons of power. The Sonic may not be the fastest turning kite for kitesurfing or looping and the bar input may feel a little spongy compared to some LEI kites. Overall if you're ripping on a twin tip and you want to maximize upwind drive and boost the biggest airs of your life give the Sonic a go you won't regret it.
- Aaron
KITE PADDLE SURF WARRANTY/RETURN POLICY
We understand that in some situations returns or exchanges may be necessary.
Its important to us that you're stoked about what you've purchased from Kite Paddle Surf. If you are not 100% satisfied with your purchase give us a call (360 775 2741), or email us, we want to make it right. On returns, all items must be in new condition with original tags, packaging and a receipt.
We are not able to take returns or exchanges on wetsuits that have been in the water so, please make sure it fits BEFORE you get in the water.
Click here for our full Return Policy.