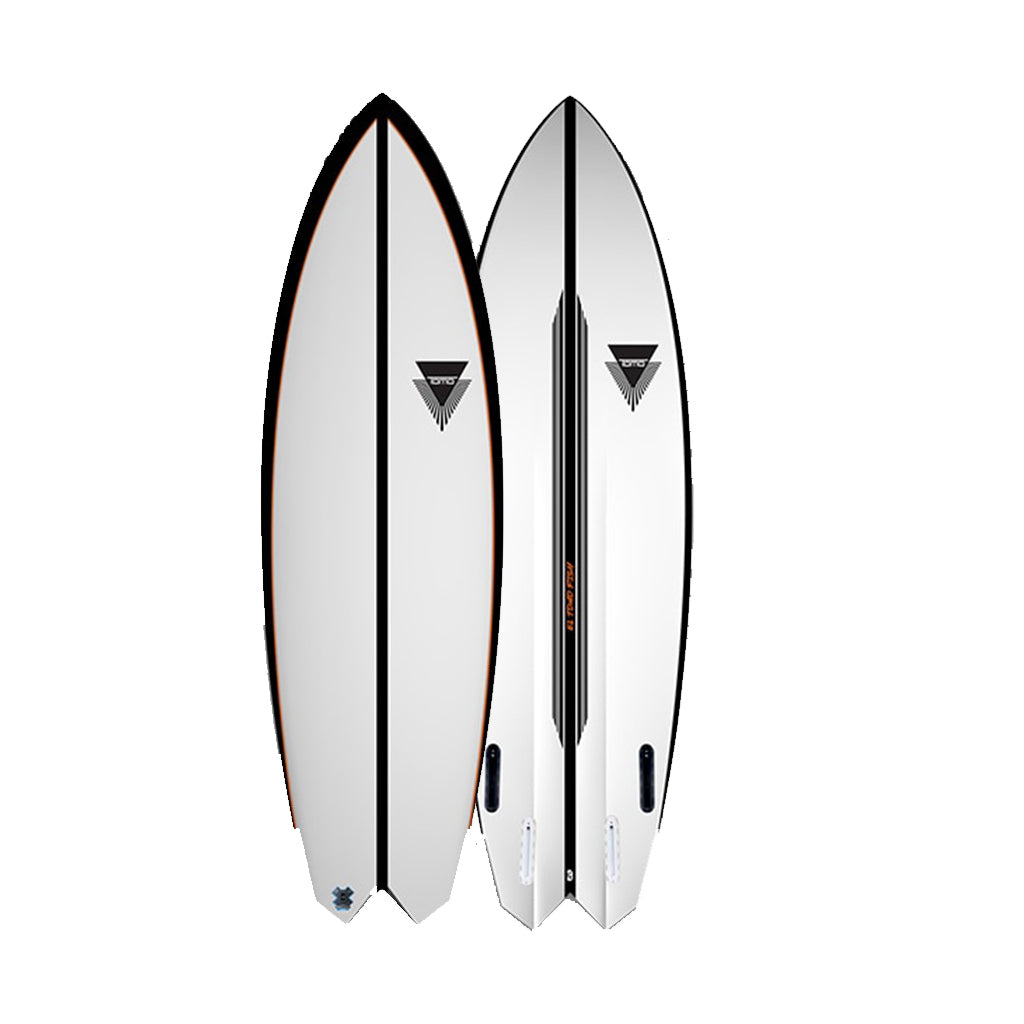 Firewire LFT El Tomo Fish Surfboard
Firewire LFT El Tomo Fish Surfboard
The El Tomo fish is a redux of the classic Tomo Fighter Jet Fish. This time with a dedicated quad-fin set up, for maximum versatility.

It is designed to excel in the smaller end of the wave range when conditions lack power and require some extra inspiration.
It features a classic, performance fish outline spliced with a trademark Tomo multi-concave hull design which results in smooth, speedy transitions. High-performance moments are to tap due to the freely releasing, bump wing to double-diamond tail profile.
With a generous volume range and low rocker similar to the EVO, the EL Tomo is fast and stable, suitable to most ability levels without comprising the performance characteristics that we expect from a Tomo design.
Linear Flex Technology
LFT incorporates Firewire's Springer HD, a .75" (18 mm) wide aerospace composite that runs down the centerline of the board, representing the next generation in out SPRINGER technology.
TheSPRINGER HD runs the entire length of the board and plays a pivotal role in optimizing flex from the nose to tail.
Technology Features

Entry Bio-Resin Throughout

1mm Ultralight High Compression Desckskin
Top Deck Sandwich Cloth
Aerospace Composite Springer
1.5lb EPS Core
Aaron
Content Creator
Firewire El Tomo Fish LFT Performance Surfboard - At a Glance
Starting off this board is just plain sexy underneath your arm and its performance backs up that look too. I feel the board does great at waist to head high waves and catches waves fairly easy. The deep channels that Tomo is known for makes this board a missile down the line. The quad fins give this board a lot of hold and drive when pumping down the line. I noticed the nose is relatively pulled in for a fish which helps keep the nose from getting hung up in radical turns. Overall, I would recommend this board to someone who is at the intermediate level looking to get a fish that performs at a high level in small to medium surf.
- Aaron
KITE PADDLE SURF WARRANTY/RETURN POLICY
We understand that in some situations returns or exchanges may be necessary.
Its important to us that you're stoked about what you've purchased from Kite Paddle Surf. If you are not 100% satisfied with your purchase give us a call (360 775 2741), or email us, we want to make it right. On returns, all items must be in new condition with original tags, packaging and a receipt.
We are not able to take returns or exchanges on wetsuits that have been in the water so, please make sure it fits BEFORE you get in the water.
Click here for our full Return Policy.