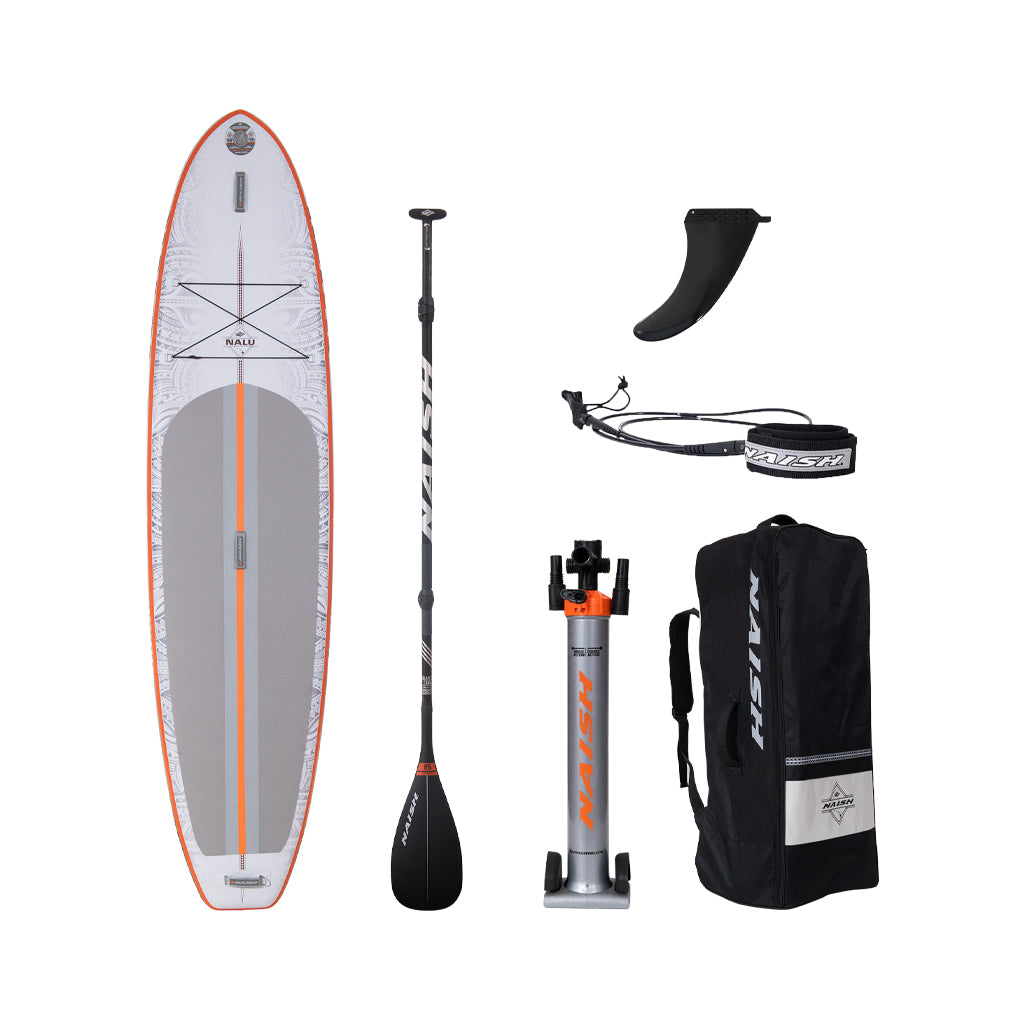 Naish Nalu Inflatable Stand Up Paddleboard With Performance Paddle Package
Naish Nalu Inflatable Stand Up Paddleboard with Performance Paddle Package


Naish S26 Nalu Inflatable Stand Up Paddleboard
A great all-around choice for riders of all levels and sizes, the Nalu Inflatable Fusion boards were designed for all-around fun for the whole family, recreational touring, and longboard-style surfing in small waves. These boards offer stability and an incredible stiffness-to-weight ratio as a result of our high-pressure X-weave material. Fusion construction and 6" thickness further enhance stability for paddling performance similar to a composite board. With its lightweight construction and classic longboard outline, this board is fun to maneuver when cruising around or walking up to the nose on small waves. Ample room on the nose allows for kids to climb aboard, or to store some extra cargo with the cargo strap. The Nalu's pack a lightweight, stiff, and durable construction into a fun and easy-to-use shape, making paddling enjoyable from the first stroke.
 Performance Paddle 
The Performance paddles are for any paddler, in any condition. These paddles are perfect for on-the-go length adjustment in a light and durable package. Performance paddles keep much of the same tech of our most popular paddles and eliminate the ABS rail to offer a more affordable option.
Aaron
Content Creator
Naish Nalu Inflatable Stand Up Paddles board - At a Glance
This is a great all-around paddleboard that you can do just about whatever you want on a SUP. You can take it up to a mountain lake and cruise around on it and even fish from it. You can float down gentle streams with plenty of stability for taking in the scenery. The Nalu can even catch waves out at the coast as long as there on the smaller side. I enjoy paddling this board everywhere because it packs up light and I can carry it in a backpack everywhere adventure awaits.
- Aaron
KITE PADDLE SURF WARRANTY/RETURN POLICY
We understand that in some situations returns or exchanges may be necessary.
Its important to us that you're stoked about what you've purchased from Kite Paddle Surf. If you are not 100% satisfied with your purchase give us a call (360 775 2741), or email us, we want to make it right. On returns, all items must be in new condition with original tags, packaging and a receipt.
We are not able to take returns or exchanges on wetsuits that have been in the water so, please make sure it fits BEFORE you get in the water.
Click here for our full Return Policy.