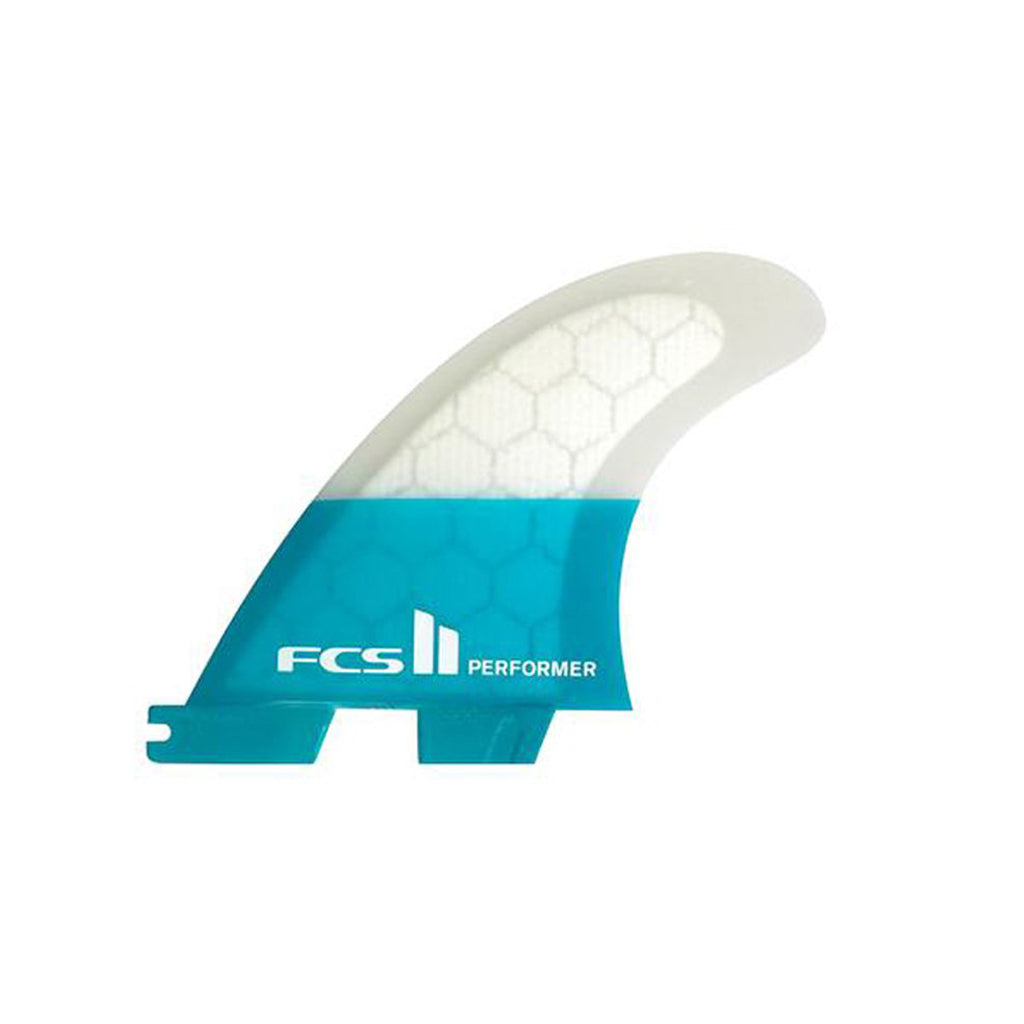 FCS II Performer PC Quad Rear Fin Set
FCS II Performer PC Quad Rear Fin Set
Overview:
Designed for a balance of speed, flow & response
Well proportioned template with Inside Foil Technology (IFT)
Ideal for surfers who want a reliable "All Round" fin delivering a combination of speed and maneuverability with flow between turns.
Update hex core material for a lighter and more responsive fin.
Ideal Conditions:
A wide range of conditions from beach breaks to point breaks.
Board Types:
Recommended for all board types
Please Note: this fin is designed to be used exclusively with the FCS II Fin System, and will not fit in the traditional FCS Dual Plug System.
FIN SIZE:
Small 55 - 70Kg / 120 - 155 Lbs
Medium 65 - 80Kg/ 145 - 175 Lbs
Large 75 - 90Kg / 165 - 200 Lbs
FIN SPECS Small:
Base: 4.25" / 108m
Depth: 4.43" / 112mm
Area: 14.03"² / 9054mm²
Sweep: 33.7º
Foil: Inside
FIN SPECS Medium:
Base: 4.37" / 111m
Depth: 4.55" / 115mm
Area: 14.81"² / 9554mm²
Sweep: 33.7º
Foil: Inside
FIN SPECS Large:
Base: 4.48" / 114m
Depth: 4.67" / 118mm
Area: 15.58"² / 10054mm²
Sweep: 33.7º
Foil: Inside
Aaron
Content Creator
FCS II Performer PC Quad Rear Pair - At a Glance
Powerful, drawn-out turns. Excels on open face waves.
KITE PADDLE SURF WARRANTY/RETURN POLICY
We understand that in some situations returns or exchanges may be necessary.
Its important to us that you're stoked about what you've purchased from Kite Paddle Surf. If you are not 100% satisfied with your purchase give us a call (360 775 2741), or email us, we want to make it right. On returns, all items must be in new condition with original tags, packaging and a receipt.
We are not able to take returns or exchanges on wetsuits that have been in the water so, please make sure it fits BEFORE you get in the water.
Click here for our full Return Policy.