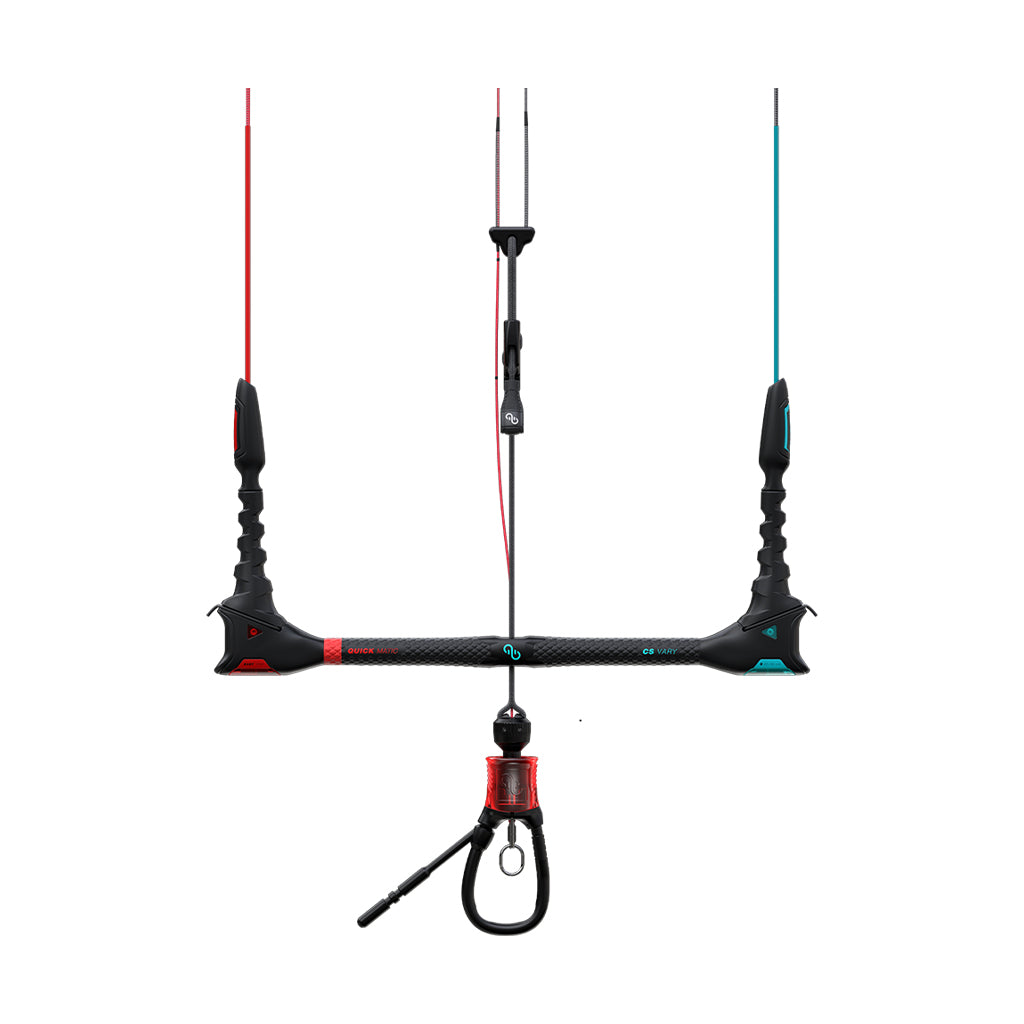 Eleveight 2022 CS Vary V4 Kite Control Bar
Eleveight 2022 CS Vary V4 Kite Control Bar
THE CS VARY BAR COMBINES THE HIGHEST SAFETY STANDARDS AND LEADING PERFORMANCE FEATURES IN ONE VARIABLE YET ULTRA-INTUITIVE SYSTEM. 
"The CS Vary's design is very slick and functional and features outstanding safety, control, and comfort characteristics."
Outstanding safety features with remarkable steering precision, the four-line CS Vary bar is fine-tuned to work with the complete Eleveight kite range.  Safety, control, and comfort are united in one easy-to-use intuitive system.  New for V4 is a redesigned bar end and floaters for a better fit as well as line protection.  The red safety line is also more tightly braided to increased longevity, and the pigtails are stronger for a more durable connection.  The new reinforced EVA grip additionally reduces wear and tear.  The CS has a single front-line safety system and the Quick Matic release reduces wear and tear.  The CS has a single front line safety system and the Quick Matic release aces all international safety tests and standards just by clicking in to lock or pushing away to release.  Variable bar ends allow you to adjust the bar width in a matter of seconds, and the design is slick to reduce strain on the hands.
The innovative Quick-Matic QR safety system is the most intuitive system out there.  The low release resistance allows you to ditch the kite even with high tension on the lines.  To reassemble the system, simply click the chicken loop back into place and assembling is done. 
E/8 Trusted Quality
Eleveight bars are designed and developed with a focus on safety, innovation, and functionality.  The manufacturing process is using the highest grade raw materials and cutting-edge workmanship.  They are designed for long-lasting durability, safe and fantastic handling performance. 
Performance Features
Four line bar with single front line safety
Adjustable bar width thanks to integrated variable bar ends. 
Thermo-coated high-precision lines made in Germany
Intuitive Quick-Matic release system with top swivel
Ergonomic anti-slip EVA grip pattern for comfort and control  
Zane
Kite Instructor
Eleveight 2022 CS Vary V4 Control Bar - At a glance
A simple, well thought-out bar design with a comfortable control bar. The robust seatbelt style chicken loop works flawlessly every time when released and is super simple to engage with one hand. The above the bar trim system is easy to reach and making micro adjustments while riding is super easy to do. The auto swivel system works great for untwisting lines when doing kite loops or throwing down a bunch of back rolls in one tack. One of my favorite bars for teaching lessons on because of the ease of use and how comfortable it is on the hands after hours of riding on the water.
- Zane
KITE PADDLE SURF WARRANTY/RETURN POLICY
We understand that in some situations returns or exchanges may be necessary.
Its important to us that you're stoked about what you've purchased from Kite Paddle Surf. If you are not 100% satisfied with your purchase give us a call (360 775 2741), or email us, we want to make it right. On returns, all items must be in new condition with original tags, packaging and a receipt.
We are not able to take returns or exchanges on wetsuits that have been in the water so, please make sure it fits BEFORE you get in the water.
Click here for our full Return Policy.